I recently wrote about gifts for the librarian in your life. That got me to thinking about gifts for knitters and crocheters. Knitters are often very generous at creating gifts for other people, but what about gifts *for* them? You may need to play detective a little to determine their tastes or to see what gadgets they already have, but I hope this list will offer some inspiration.
If you want to use this list for the knitter in your life I suggest bringing it to your local yarn store, as they are likely to stock some (or all) of these products. I haven't linked to any specific shops within the post, but you can find a list of yarn shops in Dublin in this post. And if you are a knitter or crocheter, feel free to hint heavily by sharing this post with loved ones. So without further ado….
1. Gift vouchers
This is a controversial one, some people love gift vouchers, others hate them. Me? I love them, because it means I get to pick my own treat. If you feel that gift vouchers are impersonal, at least with a voucher for a yarn shop you can argue that you put some thought into it, rather than getting one for a shopping centre (which I also love, btw).
2. Luxury yarn
If you don't want to buy a gift voucher and you do want to buy yarn, I recommend buying one or two beautiful skeins of luxury hand-dyed yarn. They may seem eye-wateringly expensive to you, but (most) knitters will know and appreciate the value of such a gift. If you want some Irish dyed yarn Coolree, Dublin Dye Company, Hedgehog Fibres and Townhouse Yarns jump to mind, although there are others. I suggest checking to see if your knitter has particular colour or fibre preferences.
3. Wool wash
Most knitted items need to be handwashed rather than machine washed. But handwashing is a pain in the ass (pardon my French). Wool wash is a non-rinse detergent, perfect for delicate items. Brands that I'm familiar with include Soak and Eucalan. These can be used on any clothes that require handwashing and I often bring a bottle on holidays incase I need to wash any of my clothes in the sink. It's also lovely to pop a drop of it in the water when soaking knitting, ready for blocking.
4. Blocking Wires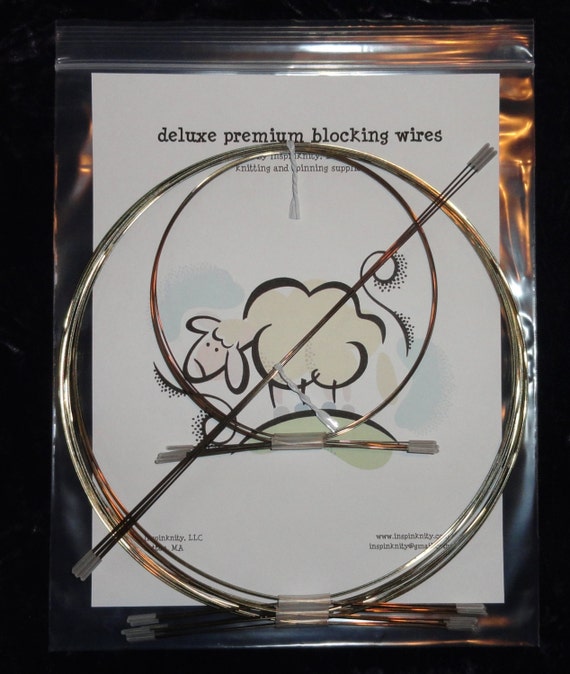 Blocking is a magic thing – magic! This is the process whereby you soak a knitted item and then pin it to the shape or size that you want. When it's dry the fibres hold this shape. It's kind of like ironing for knitting. You can block items without wires, but they are particularly helpful when blocking lace. [Image courtesy of Inspinknity]
5. Yarn winder and swift
Have you ever seen yarn in a hank? This is when the yarn is twisted lightly into a kind of plait (like in the photos above). Well you have to wind the yarn into a ball before knitting it. Just as blocking doesn't require wires, winding doesn't require a winder and swift – but it's a hell of a lot easier if you have them. The swift is the yoke that reminds me of a washing line, which holds the yarn and spins around as you wind the yarn on the, well, yarn winder.
6. Knitting needle/ crochet hook sets
A set of knitting needles or crochet hooks is more useful for a beginner, who may not have built up a large range of sizes already. Most yarn shops will stock sets in a pretty (and useful) presentation box. I'd advise checking first if your knitter prefers straight (no cable) or circular (joined with a cable) needles before investing in a set.
7. Interchangeable knitting needles
I use my set of Knitpro interchangeable needles pretty much exclusively. You may be familiar with the knitting needles joined by a cable, but did you realise that there are many lengths of cables, depending on the type of project the knitter is working on? Well there are! And interchangeable needles mean you don't need multiple lengths in each needle size. You just choose your needle size and add it to the required cable length. You can buy sets of these in pretty presentation boxes, or you can buy individual tips and cables to expand the set. As well as Knitpro needles I've heard of Addi Clicks, although I'm sure there are others.
8. A yarn bowl
I'm lucky enough that my father-in-law is a super talented wood-turner and made my my very own yarn bowl. I love my yarn bowl and use it all the time. You can find lots of different examples on Etsy or you could contact a local potter or wood turner if you were feeling particularly generous. Again, this isn't necessarily a cheap option, but your recipient is sure to love theirs as much as I love mine.
9. Knitting related stuff
A few knitters I know have expressed interest in these tea towels and mugs from Debbie Bliss, however I have to say I think they are a bit pricey. Having said that if someone else was to buy them for me, I would be absolutely delighted. I particularly like this London brick knitting needle holder.
I love tote bags and have ones from Loop London and Purl Soho in New York, these would also make great gifts. Most yarn shops will have some kind of knitting related paraphernalia, often locally produced, so just ask.
10. Stocking fillers
Buttons make great stocking fillers for the knitter in your life. I'm talking cute buttons, or unusual buttons, not a packet with 6 plain black buttons. I often see lovely handmade buttons at craft markets or in craft shops (and I am rarely able to resist them).
Stitch markers would make another nice stocking filler. You'll find all sorts of handmade ones on Etsy or in your local yarn shop. My favourite ones are those made from wire. If you're buying for a crocheter make sure you go for split ring markers.
Project bags are great for knitters who regularly have multiple projects on the go. Julie says they don't even have to be actual project bags – any little drawstring pouch and sometimes toiletry bags are perfect!
Other bits of pieces that knitters "need" are called notions. These include tins or boxes to store stitch markers and needles and interchangeable needle stops. How about some tiny embroidery scissors, a cute measuring tape or needle size gauge thingy.
If you have any further suggestions leave them in the comments please and I'll add them to the post.